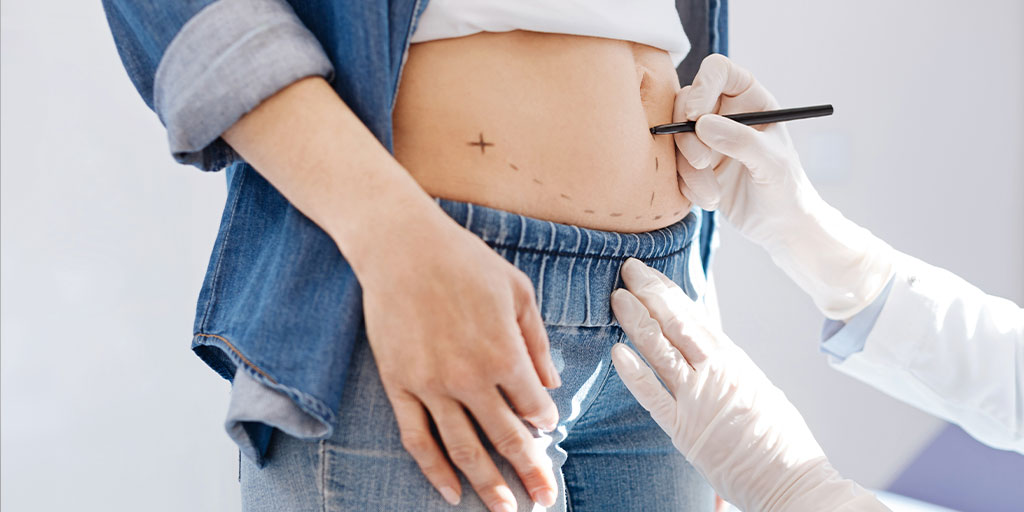 After having a baby, a mother's life and heart are both full. For some mothers, the natural bodily changes that occur after pregnancy can be difficult. For women who experience persistent, excess abdominal skin following pregnancy, tummy tucks are a popular procedure to help tighten abdominal muscles and improve overall contours of the body.
Mothers who deliver via cesarean section, or C-section, commonly ask, "Can I get a tummy tuck after a C-section?" The short answer is: yes! Tummy tucks are safe and common, and because of this procedure's dramatic and life-changing results, it is one of the most popular procedures at Schaffer Plastic Surgery. The key to achieving a safe and effective procedure after C-section, however, also means allowing your body to fully heal after childbirth before undergoing a tummy tuck. Dr. Christopher Schaffer suggests waiting 6-12 months after birth in most cases before having tummy tuck surgery.
Benefits of a Tummy Tuck After C-Section
Tummy tucks are a popular procedure for new mothers and women seeking to reclaim their confidence after giving birth because they produce dramatic results. Tummy tucks can address a variety of concerns in the abdominal area by:
Removing C-section scars, which can exist above the bikini line, be raised or show through clothing
Repairing separated abdominal muscles, which is a common side effect of pregnancy
Tightening lax abdominal muscles
Eliminating leftover pregnancy fat
Removing loose or sagging skin that will not tighten on its own
Eliminating stretch marks on the abdomen
Contouring the belly and waistline to achieve a more aesthetically appealing appearance
These benefits of the procedure also help mothers regain their pre-pregnancy appearances and regain confidence in their bodies. Tummy tucks can also be done as part of Schaffer Plastic Surgery's Mommy Makeover, which is a personalized combination of procedures to help your body regain its pre-pregnancy and pre-childbirth appearance. Mommy Makeovers can include a breast augmentation or breast lift with a tummy tuck and liposuction, as well as other procedures to address skin pigment changes, isolated fatty areas, vaginal rejuvenation or other concerns.
Choosing the Best Tummy Tuck for You
When choosing a tummy tuck, it is important to select the type of tummy tuck that best fits your needs. At Schaffer Plastic Surgery, each procedure begins with a one-on-one consultation to determine your body's needs and your individual goals. Next, a personalized treatment plan is developed.
Mini-Tummy Tuck
A mini-tummy tuck is the least invasive form of tummy tuck and it works to target the lower belly. This procedure involves a single incision just above the pubic area and enables Dr. Schaffer to tighten loose muscles and remove excess skin. The navel is not touched or moved during this procedure.
A mini-tummy tuck helps achieve a smooth, flat lower abdominal wall with a small scar—about half the length of a traditional tummy tuck scar. As the least invasive option, recovery is also faster and easier than other tummy tuck procedures.
Classic or Full Tummy Tuck
A classic or full tummy tuck works to address the lower and upper abdomen—a procedure best suited to address roundness and excess skin above and below the belly button. During this procedure, Dr. Schaffer will make a u-shaped incision above the pubic area and a second incision around the navel. A classic tummy tuck scar typically runs from hip to hip but is placed so that it can be covered by a swimsuit in most cases.
A classic or full tummy tuck helps achieve a flatter and smoother abdomen, allowing for a better fit and enhanced comfort in clothing, including form-fitting attire. This procedure also works to reduce stretch marks.
Extended Tummy Tuck
An extended tummy tuck addresses the lower and upper abdomen as well as the flanks. It can be the best procedure for individuals with significant amounts of sagging skin after multiple pregnancies. An extended tummy tuck produces a larger scar than other tummy tucks, but it also works to address roundness in the abdominal area by flattening and smoothing the abdominal muscles and it addresses significant skin laxity in the upper and lower abdomen as well as the flanks.
Schedule a consultation today if you are interested in a tummy tuck after a c-section delivery. Our board-certified plastic surgeon, Dr. Schaffer, will guide you through the entire process to help you achieve your pre-pregnancy confidence again.