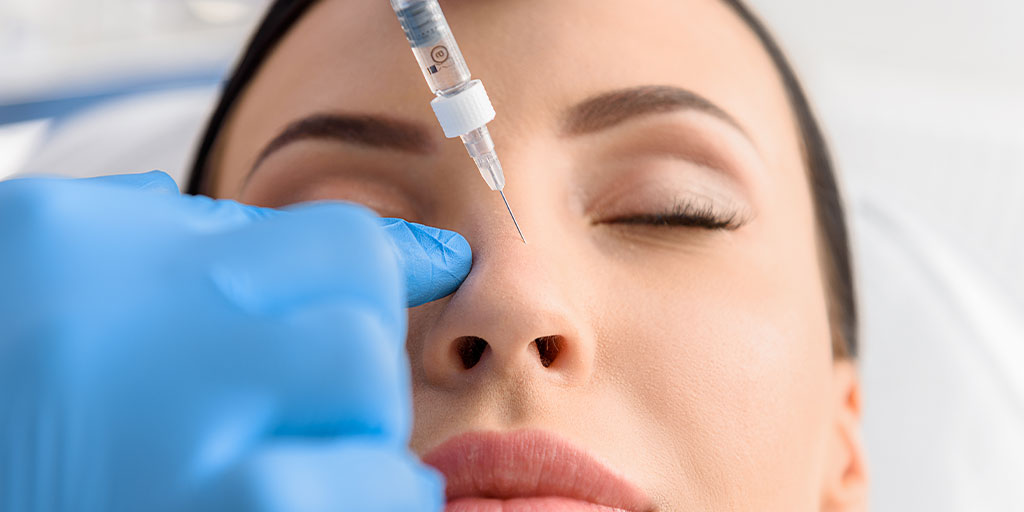 Ever heard of "going under the needle" for a nose job? At Schaffer Plastic Surgery, we offer numerous alternatives for men and women who want to avoid going under the knife. For patients wanting refinment of their nasal shape, yet not wanting to undergo a traditional rhinoplasty, we offer a non-surgical rhinoplasty option. Also called a liquid nose job, a non-surgical rhinoplasty is ideal for people who are looking to smooth out bumps in their nose or make it appear less angular without committing to a permanent solution.
How Does a Non-Surgical Rhinoplasty Work?
Non-surgical rhinoplasty works by injecting a personalized selection of dermal fillers in specific areas that will subtly alter the shape of the nose. Whether you are wanting to smooth a minor hump on the bridge of your nose, raise a drooping nose tip, refine a pinched-appearing nose tip or correct asymmetry, a liquid rhinoplasty can help. It is essential to only allow an experienced, board-certified plastic surgeon—such as Dr. Christopher Schaffer—to perform your liquid nose job. This is because plastic surgeons understand the intricacies of facial muscle planes and are best qualified to ensure natural-looking results.
Benefits of a Liquid Nose Job
Liquid nose jobs are ideal for men and women who want to change the shape of their nose without experiencing the commitment and downtime of a traditional surgical rhinoplasty. Even though results are temporary, a non-surgical rhinoplasty can disguise a hump on the nasal bridge or even help straighten a hooked nose. Liquid nose jobs can also alter the tip of the nose. Ultimately, your non-surgical rhinoplasty will be completely personalized based on your unique anatomy and goals. Since results are temporary, some patients choose a non-surgical rhinoplasty first to get a better visual of the results of a permanent surgical rhinoplasty.
What to Expect During Treatment
Your non-surgical rhinoplasty at Schaffer Plastic Surgery will begin with a consultation with our board-certified plastic surgeon, Dr. Christopher Schaffer. After an examination, he will discuss with you the types of results that he expects are achievable with a liquid nose job. As a trained expert, Dr. Schaffer will likely spend more time planning your injections than actually performing the injections themselves. Typical liquid nose jobs take 15 minutes or less to complete. The injections only feel like a minor pinch and most patients are able to return to work the same day.
What to Do After Treatment
After treatment, you may experience minor swelling and should avoid strenuous physical activities for 48 hours. You can apply sunscreen and even makeup immediately after your non-surgical rhinoplasty. Bruising at the injection sites is possible, but Dr. Schaffer is typically able to keep this to a minimum. Since the nose is a sensitive area filled with blood vessels and close to the eyes, Dr. Schaffer is extremely careful when conducting liquid nose jobs to ensure the area does not become overfilled. You can apply an ice pack to the area after your appointment to help minimize redness and inflammation.
Non-Surgical Rhinoplasty Maintenance
Non-surgical rhinoplasty results typically remain for up to six months depending on how your body metabolizes the dermal fillers used to achieve your results. The type of dermal fillers chosen for your liquid nose job can also play a role in how long your results last. If you love your results and want to preserve them, you can visit Dr. Schaffer for maintenance injections as you see your results beginning to wear off. Of course, a traditional rhinoplasty may be a better option if you want permanent results. Dr. Schaffer can help you make these decisions based on your unique goals, timeline and budget.
Schedule your appointment at Schaffer Plastic Surgery for a liquid nose job consultation. As a board-certified plastic surgeon, you are in safe, highly skilled care with Dr. Schaffer.
Rhinoplasty Gallery <p><small>Actual patients and results. Please note results may vary.</small></p>