Sun Damaged Skin Treatments at Schaffer Plastic Surgery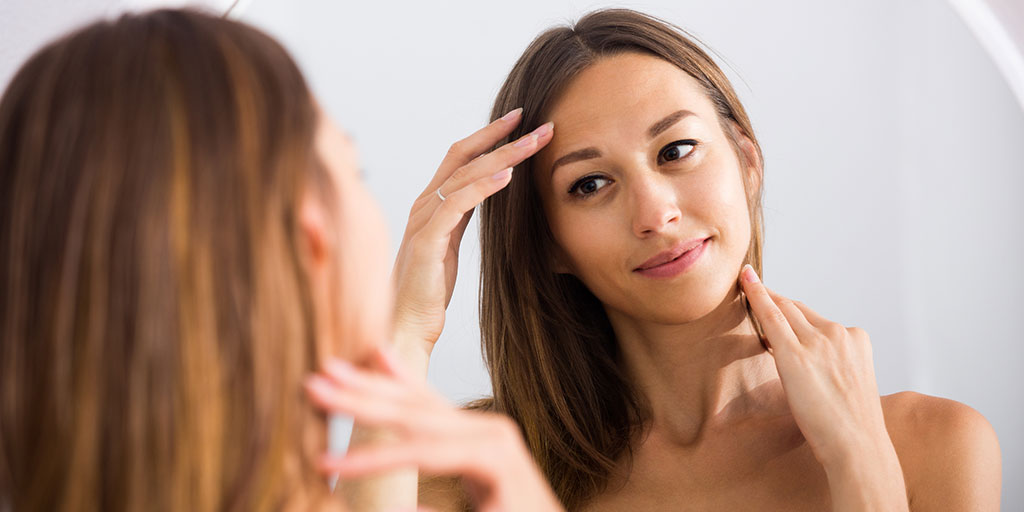 In many cases, sunspots, fine lines, wrinkles and texture irregularities from too much sun exposure can be reversed. Rather than be bothered by your sun damaged skin, consider the numerous effective treatments offered by Schaffer Plastic Surgery. Our noninvasive treatments for sun damaged skin are always personalized based on your unique skin type and desired outcomes. Whether you want to wear less makeup, look younger or simply improve the health of your skin, Schaffer Plastic Surgery can help.
Reverse Sun Damaged Skin with Halo™
Halo™ is a hybrid fractional laser that combines ablative and nonablative laser wavelengths to address mild sun damage on the skin's surface and more severe sun damage under the surface. This treatment is ideal for advanced sun damage because it provides dramatic results, yet downtime can be adjustable to suit the needs of your unique lifestyle. Whether you want to reduce sunspots, fine lines, wrinkles, vascularity or pigmentation, Halo™ can help correct the sun damage by precisely targeting the appropriate skin depth to restore a healthier complexion.
BBL™ BroadBand Light for Treating Sun Damaged Skin
As a nonablative form of pulsed light therapy, BBL™ is ideal for patients who desire a more even tone, smoother texture and radiant glow. It works by delivering energized light to targeted areas of skin to stimulate skin cells to generate new collagen. In turn, it works effectively to reduce fine lines, wrinkles, sunspots, dark spots, age spots and scars. BBL™ is an ideal treatment for sun damage because it can be used to rejuvenate the face, chest, hands or back—all common areas for sun damage to occur.
Chemical Peels for Reversing Sun Damage
Chemical peels are a tried-and-true treatment for sun-damaged skin. Our SkinMedica® chemical peels are among the highest quality available and work by promoting exfoliation of the topmost layer of skin. Since this layer is where significant sun damage can reside for many patients, chemical peels can be a worthwhile treatment. In addition to reducing the effects of sun damage, our peels can soften the appearance of acne scars, even out texture irregularities and reduce pore size. We offer several different peel formulations that can be personalized based on your downtime requirements and skin goals.
Reduce Sun Damage with Dermaplaning
Even though the premise of dermaplaning is much simpler than many of our sun-damaged skin treatments, it is still a helpful way to promote optimal skin health. Dermaplaning works to reduce sun damage by exfoliating the outermost layers of skin through the use of a specialized blade. For patients looking to reverse signs of sun damage, we typically follow dermaplaning with an infusion of active cosmeceuticals, which are able to penetrate more effectively. Since dermaplaning is a quick procedure with little to no downtime, it is ideal for busy patients and can be done during a lunch break.
Treating Sun Damage with HydraFacial MD®
HydraFacial MD® uses patented technology to cleanse, exfoliate, extract and hydrate. By removing impurities and infusing the skin with beneficial ingredients, signs of sun damage can be reversed. In fact, personalized repairing serums specific to your types of sun damage can be delivered through the HydraFacial MD® handpiece. These treatments are completely painless, non-invasive and ideal for maintaining healthy skin.
The Schaffer Plastic Surgery Difference
Even though these treatments for sun-damaged skin are noninvasive, they should only be performed under the care of a board-certified plastic surgeon or board-certified medical aesthetician, depending on the treatment. Additionally, they should only be performed in a facility that is recognized for safety like our own private facility that is accredited by the American Association for Accreditation of Ambulatory Surgery Facilities. As with any procedure we conduct, patient safety is our top priority. By choosing Schaffer Plastic Surgery, you can rest assured that your skin is in the most capable and safe hands possible.
Start reversing your signs of sun-damaged skin by scheduling your appointment today. Call us directly at 205.278.7969.