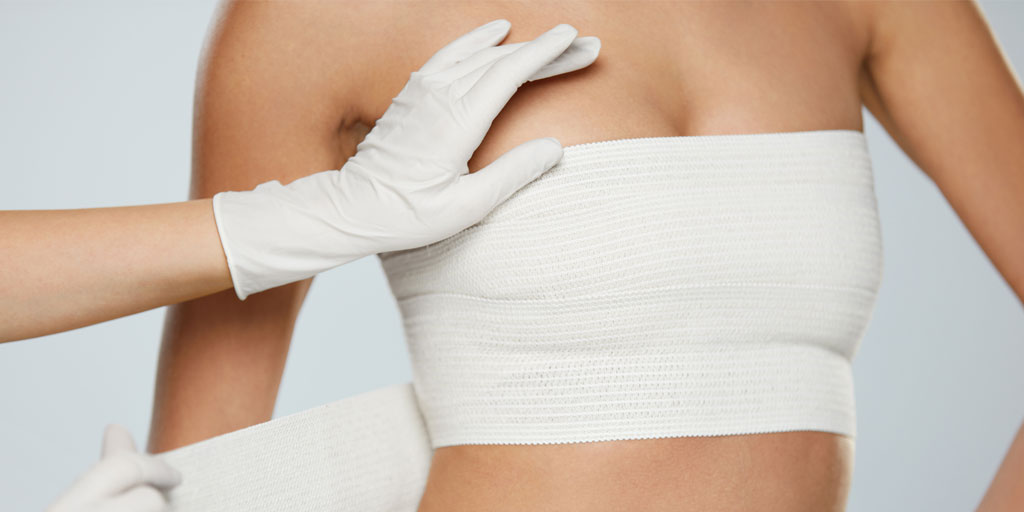 Breast augmentation is one of the most frequently performed procedures at Schaffer Plastic Surgery. Dr. Schaffer executes an individualized plan with his augmentation procedures to dramatically or subtly restore and reshape the breasts. To those contemplating this procedure, it is important to consider what is involved in the recovery. In addition to relaxation and rest, there are different stages of breast augmentation recovery for which to plan. By understanding these steps toward recovery, your body will have the best opportunity to support its natural healing processes, maintain optimum comfort and ensure the highest possibility for a great outcome.
Recover in the Comfort of Your Home
Breast augmentation is an outpatient procedure, meaning that you will be able to recover in the comfort of your home. Preparing your home for a restful experience is essential, and anywhere from a few days up to two weeks off from work following a breast augmentation is typical. Some swelling and soreness is expected, but oral pain medications and early movement will aid in recovery. It is also recommended to have a loved one nearby to assist in maintaining important, temporary activity restrictions.
Stages of Breast Augmentation Recovery
While each patient experience is unique, breast augmentation recovery is sometimes broken out into various "stages" to provide patients an overall picture of a full recovery. These stages begin in the few hours after surgery up until about a year following the procedure.
A Few Days After Breast Augmentation
The first two to three days following breast augmentation will likely necessitate higher-strength narcotic pain medication and muscle relaxers. This is the time period that requires careful attention to your dosage schedule in order to successfully manage postoperative discomfort. When taking any pain medication, it is important to follow all doctor's instructions and to avoid taking medication on an empty stomach. The first 72 hours after breast augmentation are when the need for these stronger medications peak.
One Week After Breast Augmentation
Most patients are able to stop using narcotics or strong pain medications within three to seven days following surgery. Dr. Schaffer recommends discontinuing use once discomfort is more manageable, as narcotics can result in undesirable side effects such as constipation or lethargy. Eating a diet that is high in fiber and the use of a gentle laxative when needed can help mitigate these side effects. Once narcotics usage is stopped, Dr. Schaffer may recommend shifting to non-narcotics pain medications such as Tylenol or Ibuprofen.
At this point in breast augmentation recovery, rather than pain, patients commonly experience discomfort including tightness or cramping in the breast area, as well as in the shoulders, neck and back. Muscle relaxants can help manage these symptoms, keeping in mind the effects of narcotic pain medications and muscle relaxants can be addictive.
Most patients can return to work within a week following surgery, although it is still important to prioritize rest and adherence to the activity restrictions. You should continue to avoid strenuous activity or exercise, particularly any workouts that involve the upper body, for at least six weeks. Short walks or other light exercise throughout the day, however, can help aid in recovery. Light stretching can also help mitigate any discomfort resulting from muscle swelling in the breast area.
A Few Months After Breast Augmentation
While light exercise can help aid in recovery in the weeks following your breast augmentation, it is important to avoid strenuous activities and exercises for six weeks post-op. Dr. Schaffer will also recommend a support bra, which needs to be worn nightly for six months post-op in order to offer support during the recovery process.
Schedule Your Consultation
Just as all patients will have different goals and desired outcomes from their breast augmentation, it is important to remember that all patients have an individual recovery journey. Dr. Schaffer will provide recommendations that best fit your body and unique lifestyle in order to aid in the healing process, and is always available to answer any questions that arise during your breast augmentation recovery.
Contact us today to learn more about breast augmentation and what your expected recovery time frame will be based upon your individual goals.
Breast Augmentation Gallery <p><small>Actual patients and results. Please note results may vary.</small></p>