The Liquid Facelift: A Modern Way to Achieve a Refreshed Appearance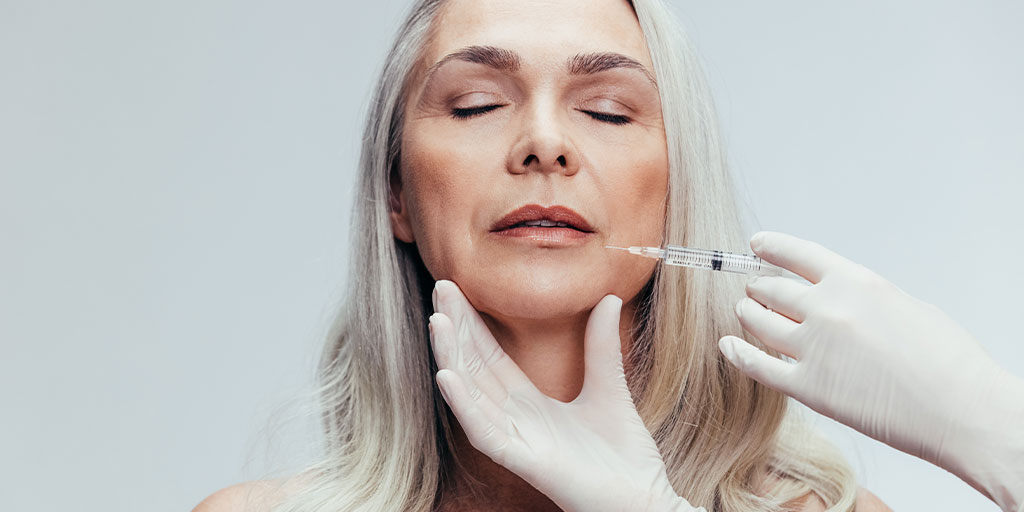 At Schaffer Plastic Surgery, we commonly encounter patients who are excellent candidates for surgical facelifts but are hesitant to undergo the surgery for one reason or another. An excellent alternative to a traditional facelift is the "liquid facelift." Liquid facelifts involve injections of dermal fillers and neurotoxins to give a lifting effect and appearance improvement for men and women. Although results are not permanent, liquid facelifts provide an immediate effect and do not require downtime.
How Liquid Facelifts Work
A liquid facelift is a modern way to improve and restore lost facial volume due to aging. Results include a lifting effect on the face and a smoothing effect on lines, folds and wrinkles. To achieve a younger, refreshed and natural appearance through a liquid facelift, injectables such as fillers and neurotoxins are expertly administered in strategic areas based on your unique anatomy. It is essential to only allow an experienced, board-certified plastic surgeon—such as Dr. Christopher Schaffer—to perform your liquid facelift. This is because skilled plastic surgeons understand the intricacies of facial muscle planes and are best qualified to ensure natural-looking results.
Benefits of a Liquid Facelift
Liquid facelifts are ideal for men and women who want the appearance of a natural-looking facelift without the lengthy downtime. In addition to the anti-aging effect of a liquid facelift, this procedure also restores lost facial volume, corrects nasolabial and marionette lines and can even involve melting away a double chin. Your liquid facelift will be completely personalized based on your unique anatomy and goals. Dr. Schaffer uses different types of fillers and neurotoxins for each patient depending on which ones will work best for their individual situation.
Injectables Used for a Liquid Facelift
Schaffer Plastic Surgery keeps an extensive inventory of facial injectables on hand to be able to offer the most personalized services possible. Depending on your goals and unique facial anatomy, any combination of the following injectables may be used:
BOTOX® and Dysport® for Expression Line Correction
BOTOX® and Dysport® are ideal for correcting dynamic wrinkles that have formed as a result of repeated facial expressions like smiling, squinting and frowning. These injectable neuromodulators work by temporarily relaxing certain facial muscles to smooth wrinkles that have formed as a result of repeated muscle contractions. In addition to expression lines around the mouth, these injectables can also smooth forehead lines, wrinkles around the eyes (crow's feet), on the bridge of the nose (bunny lines), on the upper lip (smoker's lines), and to shape brows, smiles, and other facial asymmetry caused by muscle activity.. Although BOTOX® and Dysport® are similar, they can interact with facial muscles differently. Dr. Schaffer will help you determine the best neuromodulator choice for your personalized liquid facelift.
Juvederm® and Restylane® for Restoring Facial Volume Loss
Juvederm®, Restylane® and Revanesse Versa® are injectable dermal fillers composed of hyaluronic acid. Hyaluronic acid mimics natural facial contours and can improve facial volume, reduce the appearance of fine lines and wrinkles and add subtle enhancement to the lips. Dermal fillers can also be used to address hollowness under the eyes, hollow temples, an undefined jawline or an undefined nose.
Sculptra® for Long-lasting Facial Volume Loss Restoration
Sculptra® is another type of dermal filler that is made with biocompatible, biodegradable, synthetic material called poly-L-lactic acid, which is gradually and naturally absorbed by the body and helps to rebuild lost collagen through a series of treatments administered by Dr. Schaffer. It helps to gradually replace lost collagen and results can last for more than two years. It works similarly to Juvederm® and Restylane® to address common signs of aging.
Kybella® for Reduction in Fullness Beneath the Chin
Kybella® can be involved in a liquid facelift if unwanted facial fullness should be addressed. Its active ingredient, deoxycholic acid, is a naturally occurring molecule in the body that aids in the breakdown and absorption of dietary fat. When injected into the fat beneath the chin, Kybella® denatures fat cells, resulting in a noticeable reduction in fullness under the chin.
What to Expect from Liquid Facelift Results
Your safety and happiness with natural-looking results are our top priorities here at Schaffer Plastic Surgery. Your timeline, budget and goals are important considerations that Dr. Schaffer accounts for when developing your personalized liquid facelift. In order to provide the safest, longest-lasting results possible, he will thoroughly plan each injection before administering it. In fact, Dr. Schaffer will likely spend more time planning your injections than it takes to administer the treatment.
You will see results immediately after your liquid facelift. These will continue improving over time, with final results appearing after two to three weeks. Since the injectables used for a liquid facelift will be broken down by your body over time, your results will dissipate in a subtle, gradual way. To maintain optimal results, you should visit Dr. Schaffer for some maintenance injections between six to twelve months after your liquid facelift.
Schedule your appointment at Schaffer Plastic Surgery for a liquid facelift consultation. We are eager to help you look and feel your best!
Face Lift Gallery <p><small>Actual patients and results. Please note results may vary.</small></p>