Microneedling with Platelet Rich Plasma for Acne Scars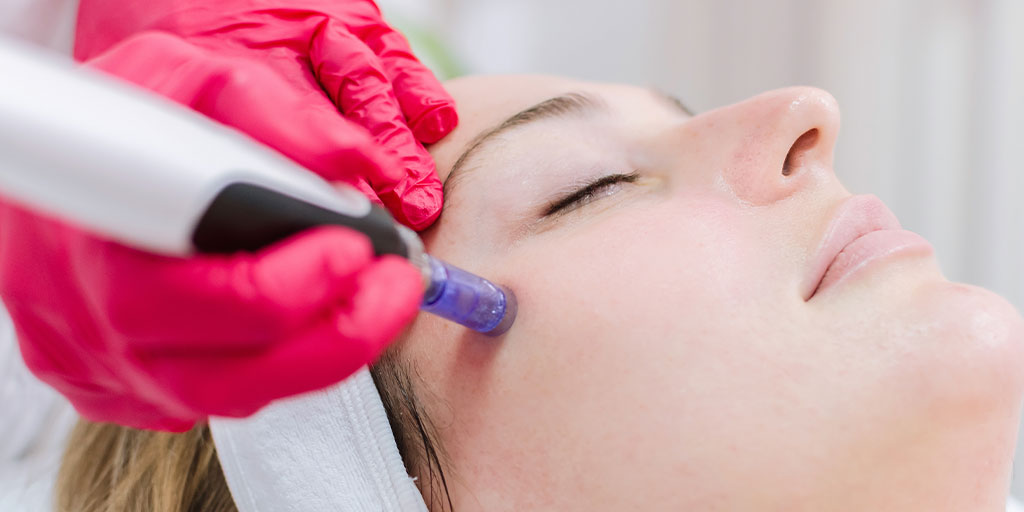 If you suffer from acne scars, you know how resistant they can be to topical treatments. You have likely invested a small fortune in over-the-counter serums and concoctions that promise to fade these pesky reminders of what was formerly acne. Whether you are experiencing hyperpigmentation or textured acne scars, microneedling with platelet rich plasma (PRP) can help.
A Non-Invasive Pathway to Smoother, Clearer Skin
Microneedling with PRP is a safe and versatile procedure that rejuvenates skin by creating controlled micro-injuries to stimulate the body's natural healing process and collagen production. These micro-injuries are then nourished by your blood's own rich nutrients which initiate a localized stem cell response that works to replace damaged tissue with new, healthy skin. Here at Schaffer Plastic Surgery, we use the microneedling technology of SkinPen® which boasts an excellent safety record and precision cartridge. Combining SkinPen® and PRP makes for the ultimate personalized treatment for acne scars.
How Microneedling with PRP Works to Improve Acne Scars
Microneedling alone is a great way to treat acne scars, but when combined with PRP, results can be enhanced and appear faster. Adding PRP to your microneedling treatment begins with a simple blood draw in the comfort of our office. It will then be placed in a centrifuge to extract the PRP, which takes less than 15 minutes and increases the concentration of healthy platelets and growth factors up to 500%. Platelets help the blood to clot, so they are vital for healing wounds and injuries. When applied within the skin through the microchannels created by the microneedling device, these growth factors support a healthy cell turnover that will help to fade and smooth acne scars.
Benefits of Microneedling with PRP
Given that acne scars are not limited to appearing on the face alone, microneedling with PRP is an excellent treatment because it can be used anywhere on the body. In addition to the face, it can be used on the back, neck, décolleté, arms, hands, legs and abdomen. Adding PRP to your microneedling also poses other unique benefits:
It is easily absorbed into the skin after microneedling due to its unique formulation.
It helps the skin heal itself more effectively by increasing collagen production, improving circulation underneath the skin and helping to restore structure to the face.
It provides subtle enhancements that improve over time for results that last.
What to Expect After Microneedling with PRP
To achieve significant results, patients usually need a series of three treatments spaced about three to four weeks apart. Each treatment only takes 20 to 30 minutes, depending on the size of the treatment area after the topical numbing process. Your skin may look flushed right after the treatment, and the treatment area may feel slightly rough for a few days. However, there is little to no discomfort after the procedure and you can even apply your makeup after a 24-hour period has passed.
Keep in mind that because microneedling with PRP causes your skin to produce new collagen and rebuild old, damaged cells, results are not immediate and depend upon the speed at which your body heals. The most visible improvements are seen at six to eight weeks post treatment, and optimal results are achieved three to six months after you complete your series of treatments. For any remaining acne scars, a laser treatment may be an excellent adjunct to your microneedling with PRP treatments to achieve a more flawless complexion and can be discussed at your follow up visit.
For more information on microneedling with PRP, schedule an appointment at Schaffer Plastic Surgery today.