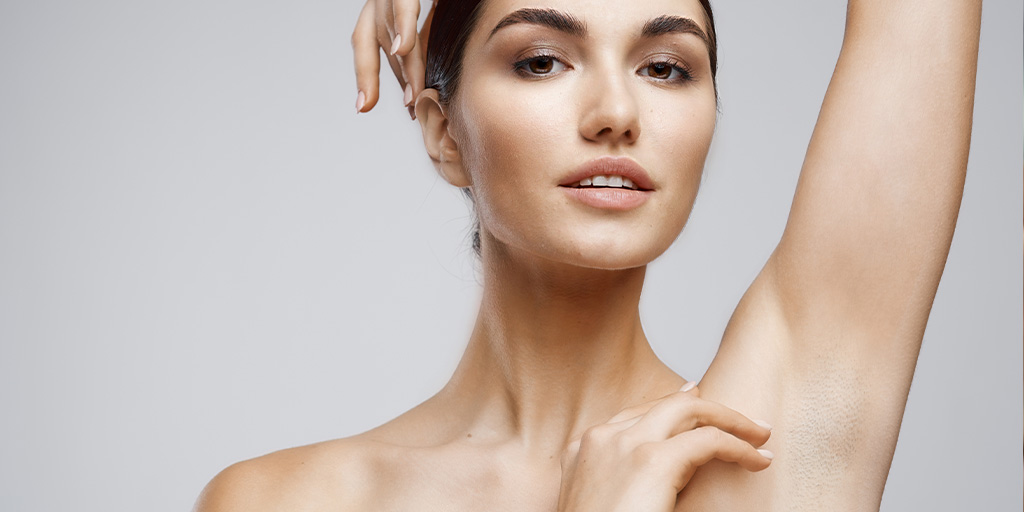 As a board-certified plastic surgeon in the Deep South, Dr. Christopher Schaffer knows how debilitating excessive underarm sweating can be for his patients. Rather than trying all the "prescription strength" deodorants, or dictating your outfits based on what conceals sweat the best, consider the miraDry® procedure to permanently stop underarm sweating. With minimal downtime and few risks, miraDry® can be a life-changing procedure for many women who struggle with the embarrassment of excessive underarm sweating.
What is miraDry® and How Does it Work?
The miraDry® procedure uses controlled thermal energy to permanently destroy sweat and odor glands in the armpits. These sweat-producing glands are permanently eliminated during a treatment, which typically lasts less than an hour. Since these glands will never grow back, you will never need to wear deodorant or antiperspirant again. There will be no more perspiration stains under your arms or unpleasant underarm odors. Additionally, because miraDry® reduces the presence of armpit hair, you will have to shave less frequently.
What to Expect During a miraDry® Treatment
Before your miraDry® treatment, Dr. Schaffer will meet with you to explain the procedure and discuss any risks that may apply to you. Immediately prior to your procedure, a volumized anesthetic with saline included will be applied to the underarm area so that you will experience little to no pain during the treatment. Next, a customized template will be applied to your armpit that will guide Dr. Schaffer's treatment application. Lastly, one of Dr. Schaffer's trained technicians will apply the thermal energy of miraDry® to your sweat glands, isolating the dermal layer and eliminating the sweat-producing structures for good.
What to Expect After a miraDry® Treatment
Most patients can expect to return to regular activities, including work, immediately after a miraDry® treatment. Exercising can typically be resumed within several days. It is normal to experience minor swelling, numbness, bruising and sensitivity in the underarm area for several days after treatment. More rare side effects include short-term altered sensation in the underarm or upper arm skin, which gradually disappears, and some localized soreness that clears within a few weeks.
The best outcome of a miraDry® treatment is sweat reduction. The treatment is clinically proven to have an average of 82% sweat reduction and 89% odor reduction. As with any aesthetic treatment, patient results and experiences may vary. Results can be seen in as little as one treatment; however, Dr. Schaffer will advise you if he believes you may need more than one treatment to achieve your desired results.
Am I a Good Candidate for miraDry®?
The best candidates for miraDry® are patients who are bothered by underarm sweat or have been diagnosed with axillary hyperhidrosis (excessive underarm sweating). Men can also benefit from a miraDry® treatment, but need to be aware of the likely reduction in hair growth. If you regularly feel self-conscious about underarm sweat, worry about sweating in front of other people, have tried clinical or prescription strength deodorant to no avail, change clothes multiple times a day due to excessive sweating, or develop an unpleasant odor accompanied by armpit sweat, you could significantly benefit from miraDry®.
Keep in mind that sweating is a normal and healthy bodily function. Humans are born with approximately two million sweat glands and our underarms contain only two percent of them. After a miraDry® treatment, you will continue to sweat normally in other areas of the body even though your underarm sweat glands have been eliminated.
Call Schaffer Plastic Surgery today at 205-619-9905 to schedule a miraDry® consultation with Dr. Schaffer.