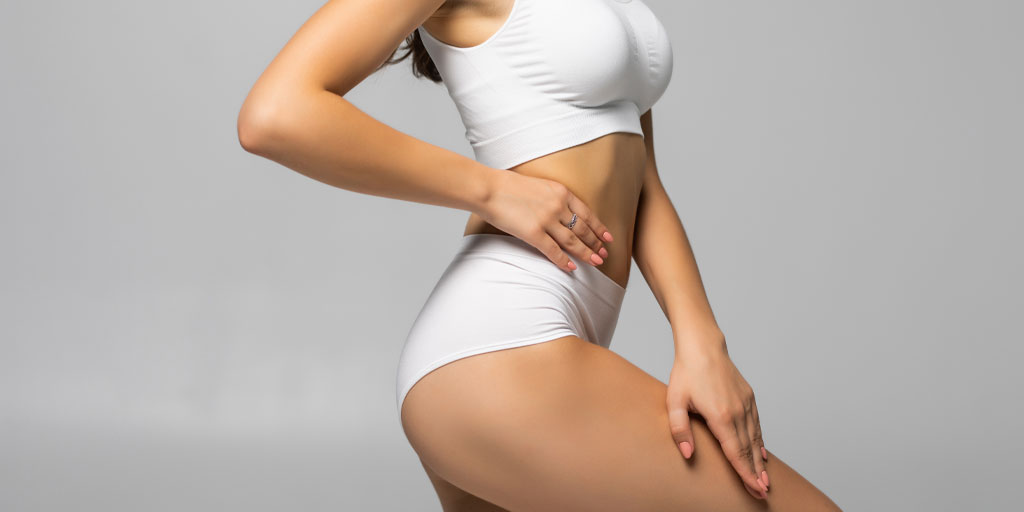 Combining a Tummy Tuck and Brazilian Buttocks Lift
Tummy tucks and the Brazilian Buttocks Lift (BBL) are among our most popular procedures performed at Schaffer Plastic Surgery, and for good reason. They create impressive results individually, but dramatic results when combined. These procedures are commonly included in our Mommy Makeover packages for women who are experiencing difficulties regaining their pre-pregnancy bodies. Whether you are interested in combining a tummy tuck and BBL as part of a Mommy Makeover or to achieve a more curvaceous shape at any point in your life, Schaffer Plastic Surgery can help.
About Brazilian Butt Lifts
When optimizing the shape of the buttocks, sometimes diet and exercise alone are not enough to achieve an ideal figure. Since the size and shape of a person's buttocks can depend heavily on genetics, a BBL can be beneficial for those seeking a natural-looking, shapely rear end. Combining the fact that a Brazilian Buttocks Lift provides two-in-one benefits by removing unwanted fat from other areas of the body and utilizing it to contour the buttocks, the resulting shape includes a trimmer waist and more shapely buttocks. This is a procedure that can combat the effects of aging, sun damage, pregnancy, weight change or genetic factors on the buttocks.
About Tummy Tucks
Abdominoplasty, better known as a tummy tuck, is among the most popular procedures offered by Schaffer Plastic Surgery because of its dramatic, life-changing results. This procedure will tighten up lax abdominal muscles and improve the overall contour of the abdominal area after weight loss or pregnancy. Tummy tuck surgery can also remove lower abdominal stretch marks and get rid of bothersome fat. Every patient is unique, which is why there is no cookie-cutter approach to abdominoplasty. Dr. Schaffer will recommend the best type of tummy tuck for you based on your individual anatomy, challenges and goals. Types of tummy tucks offered by Schaffer Plastic Surgery include:
Mini-tummy tuck for the lower belly to achieve a smooth, flat lower abdominal wall with only a small scar
Classic or full tummy tuck for the lower and upper abdomen to address roundness and excess skin above and below the belly button
Extended tummy tuck for the lower and upper abdomen and flanks to address significant amounts of sagging skin after multiple pregnancies or extreme weight loss.
Choosing the Best Plastic Surgeon for Combination Treatments 
Combining treatments like a tummy tuck and BBL is an advanced surgical technique that should only be done under the care of a highly experienced, board-certified plastic surgeon such as Dr. Schaffer. Dr. Schaffer applies the experience he has developed from 20 years of practice and eight years of advanced training to every patient and procedure. His commitment to high standards of patient safety before, during and after operations is second-to-none.
In addition to Dr. Schaffer's extensive experience, Schaffer Plastic Surgery holds full accreditation from the American Association for Accreditation of Ambulatory Surgery Facilities (AAAASF). This accreditation is considered the gold standard in accreditation for ambulatory surgery facilities, also known as outpatient surgery centers. A distinct honor, this accreditation is a confirmation to patients that a facility and its staff have taken extra steps to promote safety, and recognition is only provided to facilities that have met one hundred percent of AAAASF's high standards.
Reveal the Best Version of You
There is no one-size-fits-all approach to plastic surgery. Sometimes, a combination of treatments is needed to achieve a desired result. Dr. Schaffer has an eye for aesthetics and will develop a personalized plan—based on your unique anatomy and goals—to help reveal the best version of yourself.
If you are interested in the combined benefits of a tummy tuck and BBL, contact Schaffer Plastic Surgery today for a consultation with Dr. Schaffer.