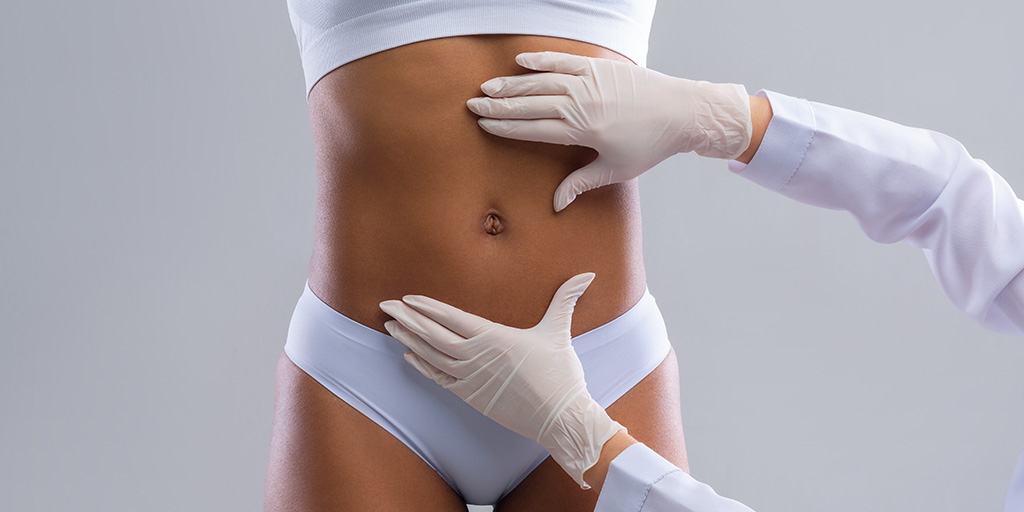 Abdominoplasties, better known as "tummy tucks," provide a way of achieving a shapelier physique when a combination of exercise and healthy eating are unable to accomplish the desired results. For many patients, weight loss and pregnancy often yield unwanted excess skin, stretch marks and persistent fat. Abdominoplasty will tighten up lax abdominal muscles and improve the overall contours of the abdominal area while removing certain stretch marks and getting rid of bothersome fat. Learning more about how abdominoplasty works is an important part of deciding if it is the right body contouring procedure for you.
Anatomy of a Tummy Tuck
There are several different types of tummy tucks that are always personalized to meet the needs and goals of each patient. However, each type of tummy tuck works on the same basic premise: Removing excess skin, repairing weakened abdominal muscles, and removing unwanted fat. Tummy tucks are performed under general anesthesia in our state-of-the-art, private surgery center; patients are then able to return home the same day of their procedure to recover. In general, patients need to plan for a two-week recovery period before they can return to work and normal activities.
Types of Tummy Tucks
Our board-certified plastic surgeon, Dr. Christopher Schaffer, only performs procedures that are personalized to each patient. Depending on your unique anatomy and desired results, he may suggest one of the following types of tummy tucks: A mini tummy tuck for the lower belly, a classic or full tummy tuck for the lower and upper abdomen, or an extended tummy tuck for the lower and upper abdomen plus flanks. Each type of tummy tuck requires a different incision protocol. At your consultation with Dr. Schaffer, he will explain more about each type of abdominoplasty and recommend the best fit for your goals.
How Long Does a Tummy Tuck Last?
Improvements to your abdominal tone from a tummy tuck can last a lifetime. However, to expect long-lasting results, you should be finished having children since future pregnancies or weight gain can diminish results. Keep in mind that any fat removed through a tummy tuck is permanent, but remaining fat cells are still capable of growth. This is why it is important to maintain a healthy eating and exercise regimen to preserve your abdominoplasty results.
Combining Abdominoplasty with Other Procedures
At Schaffer Plastic Surgery, abdominoplasties are commonly performed in conjunction with other body contouring procedures. For example, an abdominoplasty can be combined with a buttock lift or breast augmentation. Abdominoplasty is popularly performed as part of a "Mommy Makeover," which is a personalized combination of procedures to help women return their bodies to a pre-pregnancy appearance. Dr. Schaffer typically combines abdominoplasty with a minimum of breast augmentation and liposuction for Mommy Makeovers but always personalizes each procedure combination depending on a woman's individual goals.
The Best Candidates for Abdominoplasty
Now that you understand how a tummy tuck works, determining if you are a candidate for the procedure is the logical next step. The best candidates for abdominoplasty have stretched abdominal muscles and sagging skin after weight loss or pregnancy. Other ideal candidates for abdominoplasty may have always had a "pot belly" even though they are in excellent physical shape otherwise. To further determine your candidacy for abdominoplasty, Dr. Schaffer will gather information about your medical history and lifestyle. He will ask for information about your history of diet and exercise to gain a better understanding of why you may need a tummy tuck. Determining the causes for your lax abdominal muscles and excess skin will help Dr. Schaffer choose the right type of tummy tuck for your unique situation.
To learn more about how tummy tucks work and which type of tummy tuck is right for you, schedule a consultation with Dr. Schaffer by calling our office at 205.278.7969.
Tummy Tuck Gallery <p><small>Actual patients and results. Please note results may vary.</small></p>