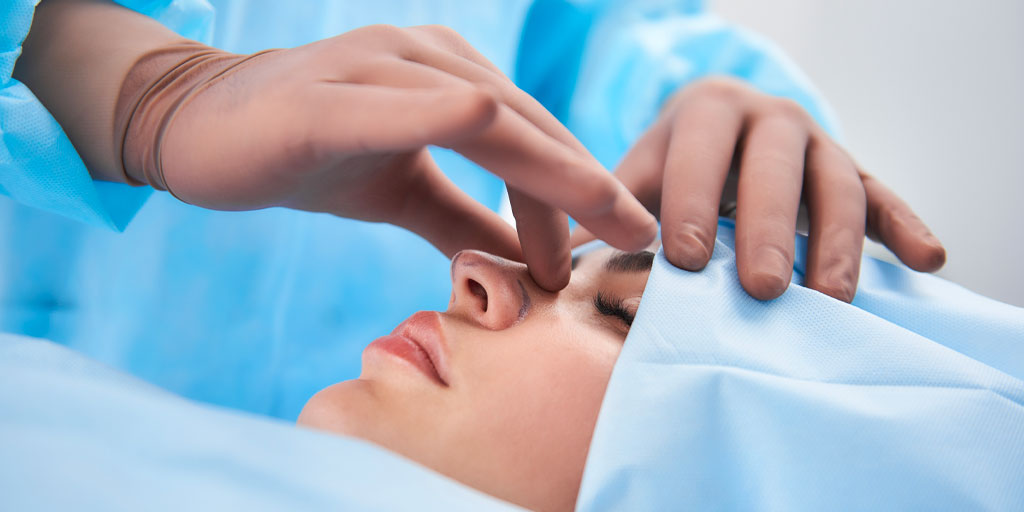 Learning how rhinoplasty is done is an important part of deciding whether to undergo the procedure. At Schaffer Plastic Surgery, our board-certified plastic surgeon, Dr. Christopher Schaffer, spends ample time with patients explaining procedures and addressing specific concerns. Decisions involving plastic surgery can be life-changing and we believe it is our obligation to explain all aspects of any given procedure to patients thoroughly.
Basics of Rhinoplasty
Before explaining the details of how rhinoplasty is performed, it is essential to understand the overall basic premise of the procedure. Commonly referred to as a "nose job," rhinoplasty modifies the shape of the nose in an effort to improve facial harmony, correct imperfections and/or improve nasal symmetry. Rhinoplasty is a common outpatient procedure that can address nasal width at the bridge, size or position of nostrils, nasal symmetry, nasal size in relation to the face and nasal profile, including humps or indentions along the bridge. In addition to addressing cosmetic concerns, rhinoplasty can also correct a deviated septum which can cause impaired airflow through the nose.
Beginning a Rhinoplasty
The first step of rhinoplasty is the administration of anesthesia. Medications are given to ensure your comfort during the procedure that will involve either intravenous sedation or general anesthesia. Dr. Schaffer will work together with you to determine the best option for you. Next, incisions are made that will allow access to reshape the structure of the nose. These incisions can either be made inside the nose, making it a closed procedure, or an incision can be made across the columella (the narrow strip of tissue that separates the nostrils), making it an open procedure. Keep in mind that you will not experience any discomfort during these incisions, due to anesthesia.
Reshaping the Nose Structure and Deviated Septum Correction
Next, a considerably large nose may be reduced in size by removing bone or cartilage. In some situations, the addition of cartilage grafts may be needed. Typically, Dr. Schaffer will use cartilage from the septum (the partition in the middle of the nose) for this purpose. In some rhinoplasty procedures, a controlled surgically precise fracture of the nose, called an osteotomy, may be performed. This allows the nose to be repositioned more narrowly and is sometimes used to repair a crooked nose. At this point in the procedure, Dr. Schaffer will also correct a deviated septum by removing parts of the septum and reinserting them in the proper position.
Completing a Rhinoplasty
After correcting underlying structural issues of the nose and sculpting it to the desired shape, Dr. Schaffer will redrape the nasal skin and tissue. Next, all incisions will be carefully closed. Since rhinoplasty is an outpatient procedure, patients can expect to return home on the same day as surgery. The days following rhinoplasty are important, as patients will wear a splint on the outside of their nose. Swelling and bruising are normal and will begin to gradually subside within a few days. Following all post-care instructions from Dr. Schaffer is important and will ensure your results are preserved for the rest of your life.
Learning More About Rhinoplasty
Our goal is to help our patients make the most informed decisions possible about their health. Learning about rhinoplasty recovery is important, as well as learning how to prepare for rhinoplasty. Ultimately, any question you may have about rhinoplasty can be answered personally by Dr. Schaffer. At your rhinoplasty consultation, you will have time to ask as many questions as necessary and gain more insight into what your potential results could look like. To schedule an appointment to learn more about rhinoplasty, call our office at 205.278.7969.
Rhinoplasty Gallery <p><small>Actual patients and results. Please note results may vary.</small></p>