How Long Does It Take to Recover from Rhinoplasty?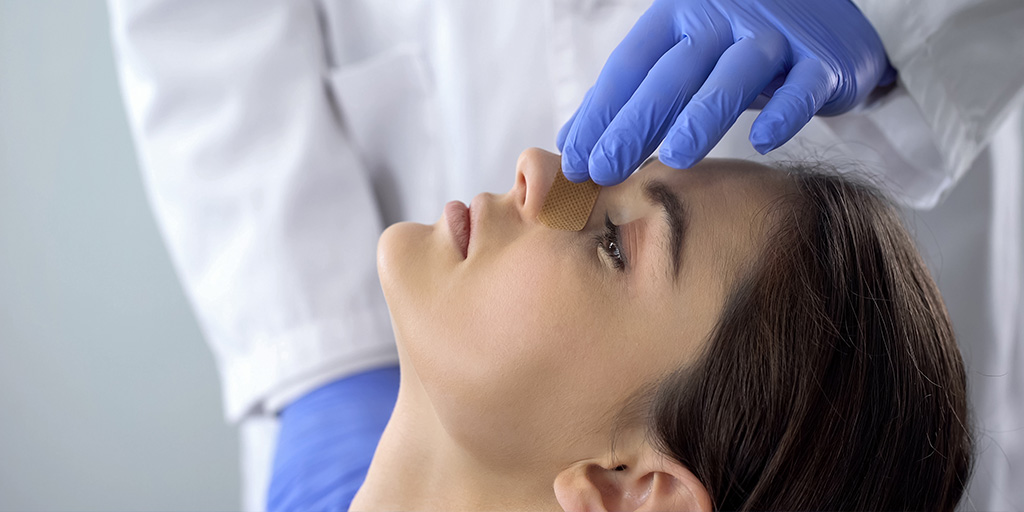 Rhinoplasty is a highly individualized procedure that patients often describe as being life-changing. When a person has felt self-conscious about the appearance of their nose for years—or even decades—having a rhinoplasty can result in a serious confidence boost. If you are considering a rhinoplasty but are uneasy about the recovery experience from this procedure, you are not alone. Our board-certified plastic surgeon, Dr. Christopher Schaffer, counsels each patient on what he anticipates their recovery experience will be like and is always honest about what they should expect.
What to Expect After Rhinoplasty Surgery
First, it is important to understand that rhinoplasty is an outpatient procedure, which means you should expect to return home on the same day as your surgery. While the idea of returning home the same day as surgery may seem daunting to some, rest assured that Dr. Schaffer will provide detailed aftercare instructions, including a list of medications, to help you achieve optimal comfort and safely recover at home. He even provides his personal cell phone number to patients so that he can be available to address any urgent concerns. Since the procedure is performed under general anesthesia, you will not experience surgical pain. Although your overall recovery experience will be uncomfortable at times, most patients do not describe it as being painful.
Initial Recovery After Rhinoplasty Surgery
The first few days after rhinoplasty surgery are usually the most uncomfortable. Patients go home with a splint on the outside of their nose and potentially an internal splint if work on the septum is performed. Drainage and slight bleeding are expected in the days following surgery, so a gauze dressing will be placed under the nose to absorb any drainage. Swelling and bruising are normal at this point in the rhinoplasty recovery process and will gradually subside over the course of several days. After one week, Dr. Schaffer will remove the initial splint(s).
Ongoing Recovery After Rhinoplasty Surgery
In the first few weeks after rhinoplasty surgery, you should expect slight swelling to remain. In fact, some patients find that it can take up to a full year after rhinoplasty for all swelling to subside. Keep in mind, however, that this type of long-term swelling is typically subtle and unnoticeable to other people. After two to four weeks of recovery, Dr. Schaffer typically recommends patients can resume light exercise if they desire to do so. Although, it is important to avoid any activities that may result in facial trauma or sunburn. Staying on the medication regimen prescribed by Dr. Schaffer is essential to your comfort during the first few weeks after surgery.
What to Expect One Year After Rhinoplasty Surgery
One year after rhinoplasty surgery, your nose will have mostly healed with no remaining swelling. Keep in mind, however, that since Dr. Schaffer does not take a cookie-cutter approach to rhinoplasty, recovery experiences vary greatly. For example, not every rhinoplasty involves work on the bones to narrow the nose. Some rhinoplasty surgeries do not involve work on the septum. The extent of your rhinoplasty will impact the length of your recovery, which Dr. Schaffer will discuss with you beforehand based on your unique procedure.
How to Speed Up the Healing Process After Rhinoplasty
Dr. Schaffer provides every patient with a detailed list of important steps to follow after rhinoplasty to ensure a safe, comfortable, and speedy recovery. In general, patients who want to speed up their healing processes should:
Regularly and gently use cold compresses.
Get plenty of rest.
Maintain a healthy diet to support the body's natural healing responses.
Avoid touching and blowing the nose or wearing glasses.
Stay out of the sun to avoid further inflammation.
If the rhinoplasty recovery process sounds like something you would be unable to undergo, you may be a candidate for a "liquid nose job." This non-surgical procedure can achieve similar yet temporary results through the use of facial injectables.
To learn more about recovering from rhinoplasty, schedule a consultation with Dr. Schaffer today by calling our office at 205.278.7969.
Rhinoplasty Gallery <p><small>Actual patients and results. Please note results may vary.</small></p>